Vienna in World War II
Vienna can be a pleasant Mer à Boire for lovers of history, but I spent an interesting midweek with only the theme : WO2.
If you control the German language, it is useful to visit the repclub.at and iwk.ac.at websites and to subscribe to their newsletter, there are lectures and discussions about WO2 related themes regularly.
I had booked the centrally located hotel Terminus on the Fillgraderstrasse in the Mariahilf district, near the famous Getreidemarkt. From there you can reach almost everything by foot.
WO2 museums and memorial stables:
1) Dokumentationsarchiv des Österreichisches Wiederstandes
(Documentation archive ofthe Austrian Resistance)
Website: doew.at
Address in the center:
Altes Rathaus, Wipplingerstrasse 6-8, 1010 Wien
Here is a lasting exhibition about national socialism in Austria, every working day opened from 9 to 17 hours.
Connected to the Döw at the Salztorgasse 6, a few minutes away, a memorial site for the Gestapo victims in Vienna. This is only for groups on request. Sometimes you can join a group. Send an e-mail to Eva Kriss,eva.kriss@doew.at
2) The Gedenkstätte Steinhof (Memorial Steinhopf)
Steinhof was, and is today, a major psychiatric hospital where mentally and physically disabled were murdered during World War II.
https://www.erinnern.at/gedaechtnisorte-gedenkstaetten/katalog/gedenkstaette_steinhof
Address: Otto Wagner-Spital, Baumgartner Höhe1.
It is outside of the city center but can easy be reached by bus and metro in 20/25 minutes. It is open from Wednesday to Friday from 10-17 pm and on Saturday from 14 to 17 hours. A private tour is possible from 5 people, send an email to Eva Kriss, eva.kriss@doew.at. I did it on my own.
Walking through Vienna.
1) It is possible to book a WO2 related walk through the website denkmalwien.at.
2) On the website theviennaproject.org you can download an app with which you can walk Vienna through places of WW2.
3) In the Jewish district of Leopoldstad you can take a stroll along the Stolpersteinen.
(Stones of Remembrance)
Monuments interesting locations:
On the Ballhausplatz there is a monument for the deserted soldiers, prisoners of war and civilians who were sentenced to death by German military courts: deserteursdenkmal.at
Fig. 1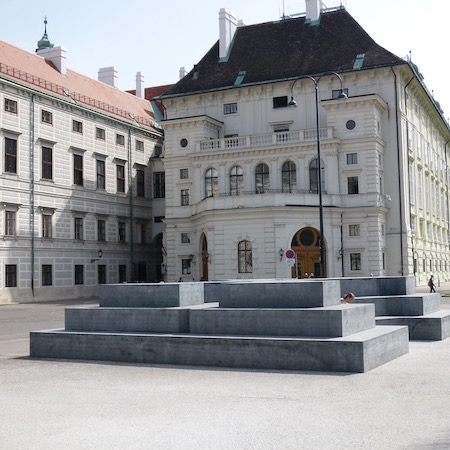 Bookstore.
Visit the great antiquarian bookstore Stoehr in the field of military history at the Lerchenfelder Straße 78-80: https://www.buchhandlung-stoehr.at
Karl Lueger
There is still a statue of Vienna's open-minded anti-Semitic mayor of 1897-1910 at the Doctor-Karl-Luegerplatz.
Visit https://www.wikipedia.org/wiki/Karl_Lueger
Fig. 2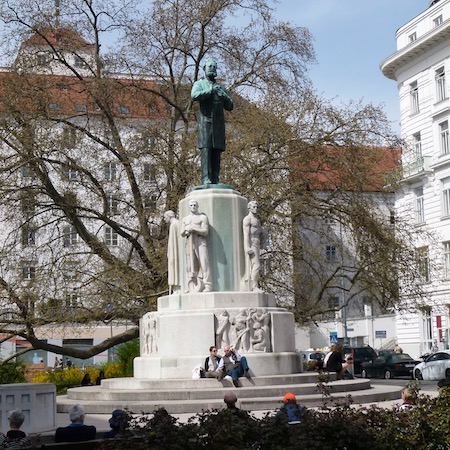 Antisemitism after the Anschluss
Everyone probably knows the story that was forced immediately after the Anschluss of Vienna Jews to brush the streets.
It is worth a walk to visit one of these places, such as the Hagenmüllergasse. See the attached images of this street in 1938 and now.
Fig. 3 and 4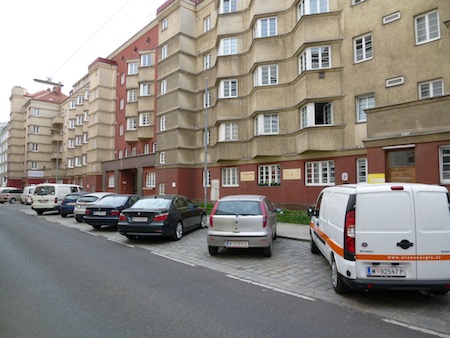 Adolf Hitler's speech
On the balcony of the Neue Burg, an extension of the Hofburg on the Heldenplatz, now the official residence of the Austrian president, Adolf Hitler announced in 1938 the Anschluss of Austria.
Fig. 5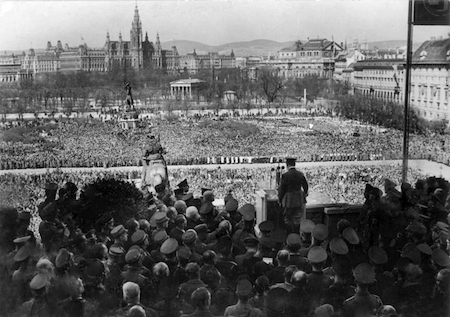 Bundesarchiv Bild183-1987-0922-500