World War II and the Holocaust in Amsterdam
See important sites and monuments relating to the Nazi occupation of Amsterdam (1940-45). Let us be your guides and inform you about this traumatic episode in the Dutch capital's long history. The tour is ideal for visitors who like to go off the beaten path and want to learn more about this important aspect of the city's past.
For those with a passion for history this is a tour not to be missed.
The price is 35 euro per person.
(Includes 1,5 Euro local tax and 21% VAT)
The cost of a private tour with a maximum up to four people is
€
150. The price of an extra person is
€
35.
The tour takes approx. 2,5-3 hours.
About halfway through the walk, a short break will be provided for a coffee and/or a rest room visit.
Because of its content, the suggested minimum age for the tour is 13.
Peter Schaapman
&
Ben de Jong
Our guides
Ben de Jong is a retired history professor from the University of Amsterdam.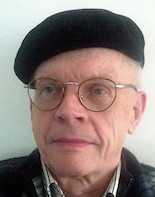 Peter Schaapman, creator of Historywalks.eu, has a 30-years career in the media. He studied WWII and the Shoah in Amsterdam.
An interview with me, here on the interesting website: Bridges of Amsterdam